January 18, 2007 - Get free updates of new posts here
Another Grouporation = Group + Collaboration
Company: Learn Out Loud is a place to get podcasts, audio books and Videos you can learn from..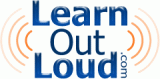 Problem: Currently they're getting about 100k uniques a month to LearnOutLoud. However, less than 1% of those people ultimately purchase a product, in part because they make so much free stuff available on our site.
Question for us: What is the best way to get more of these people to actually buy products on their site?
Please leave a comment and help if you want your site, product or service to be reviewed in the future.