August 22, 2006 - Get free updates of new posts here
There are a few things we never notice but once someone points it out, we always do.
1- I was talking with Blake and he pointed out something I never noticed. On the FedEx Logo there is an arrow between the E and the X.
2- On California license plates the format is a number, 3 letters and 3 numbers. My friend Zach pointed out that there is NEVER a Q in the middle of the letters. I totally disagreed but he was right. Try it out for yourself. If you find one take a picture and email me.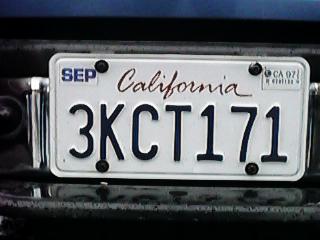 3- Phantom Ring. This may bother you if you read it further. Basically sometimes you think your phone is ringing when its not. So you check your pocket and realize its nothing. Just the fact that you have read this, you will start noticing it more often…Shitty I know.

Bottomline: Secret things intentional or not are really cool and get people digging your stuff. Think about how people feel about the secret menu of In-n-Out.

Anything else…